One study programme – two countries – two degrees
FGU students pursue a joint programme of study in France and Germany.
However, they come from countries all around the world.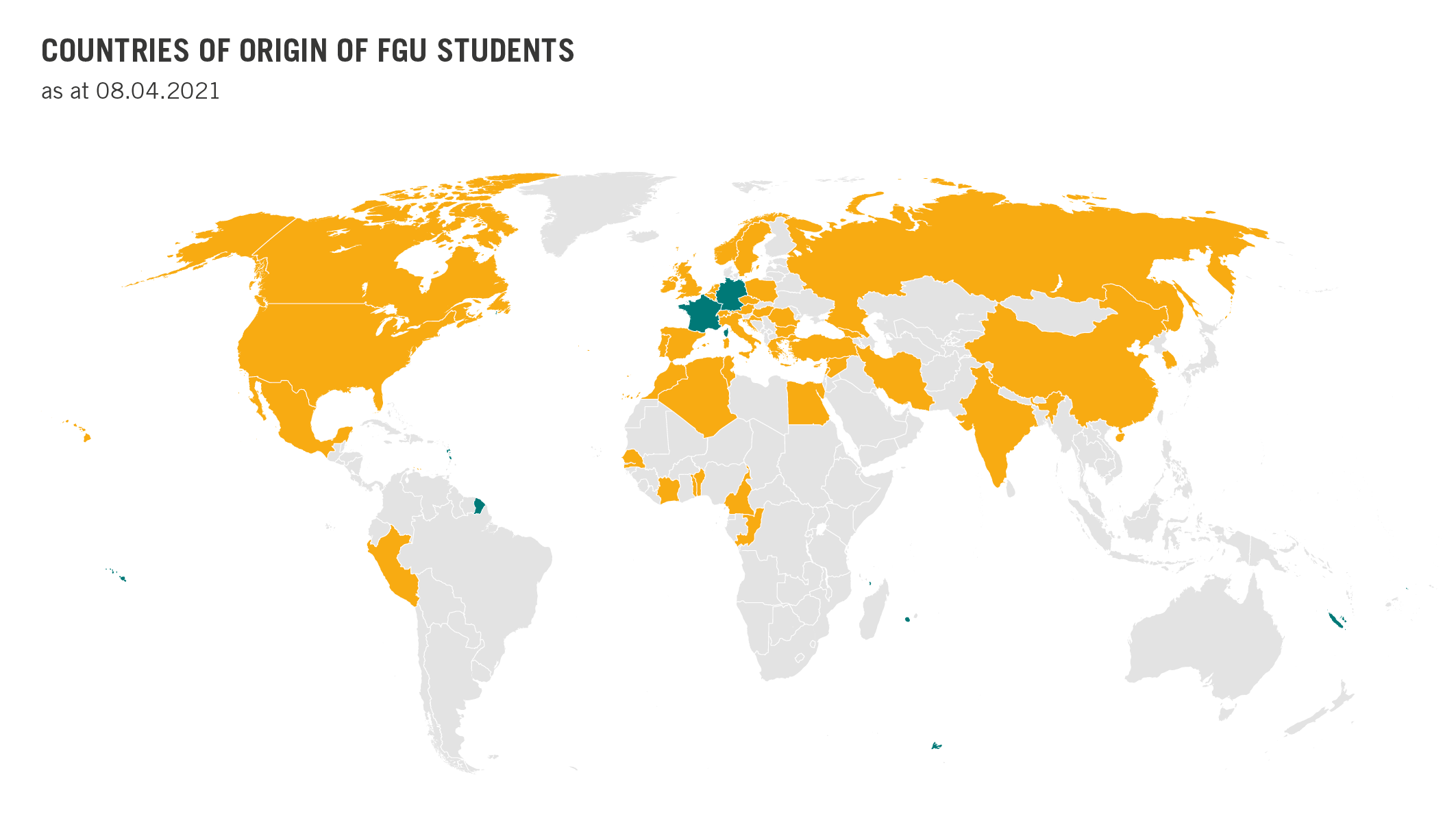 Key facts at a glance
The FGU is a network consisting of over 200 universities, universities of applied sciences, grandes écoles and écoles in France, Germany and a number of third countries.
You study alternately at a French and German university and at the end of your course are awarded a double degree (bachelor, master or PhD).
You can choose from over 180 Franco-German degree programmes in 145 cities.
You will also find some tri-national FGU study programmes, for example with the UK.
FGU covers almost all fields of study: engineering, natural sciences, economics, law, social sciences and humanities, as well as teacher training, architecture and IT.
The FGU supports your stay abroad with a monthly allowance of €300.
The FGU offers you the option of taking part in free online language courses.
FGU graduates will have no problems in finding suitable employment in their chosen fields and in most cases they work in an international context.
How does the joint programme work?
A French and a German university together offer a joint programme.
Each of the FGU programmes is divided more or less equally between the two partner universities, which means that you study abroad for at least a whole year.
However, thanks to the joint study and examination regulations, this does not extend your study time.
University entrance qualification
Good language skills in French and German*
A bachelor's degree for master programmes
* Students with a lower level of proficiency (A2-B1) can attend intensive language courses during their studies.
You submit your application to either the German or the French partner university. In Germany, students apply directly to the university. In France, applications are made via the Parcoursup platform.
Once the application dossier with CV, certificates and cover letter describing your reasons for applying has been submitted, selection interviews and/or language tests usually follow.
Please contact the programme head at the university if you have any questions about the individual degree programmes. You will find their contact details in the FGU study guide (in French or German).
For general queries about studying with the FGU, please contact:
inscription[at]dfh-ufa.org
+49 681 938 12 – 100
For more information about studying in France in general: Campus France
For more information about studying in Germany in general: Deutscher Akademischer Austauschdienst (DAAD)