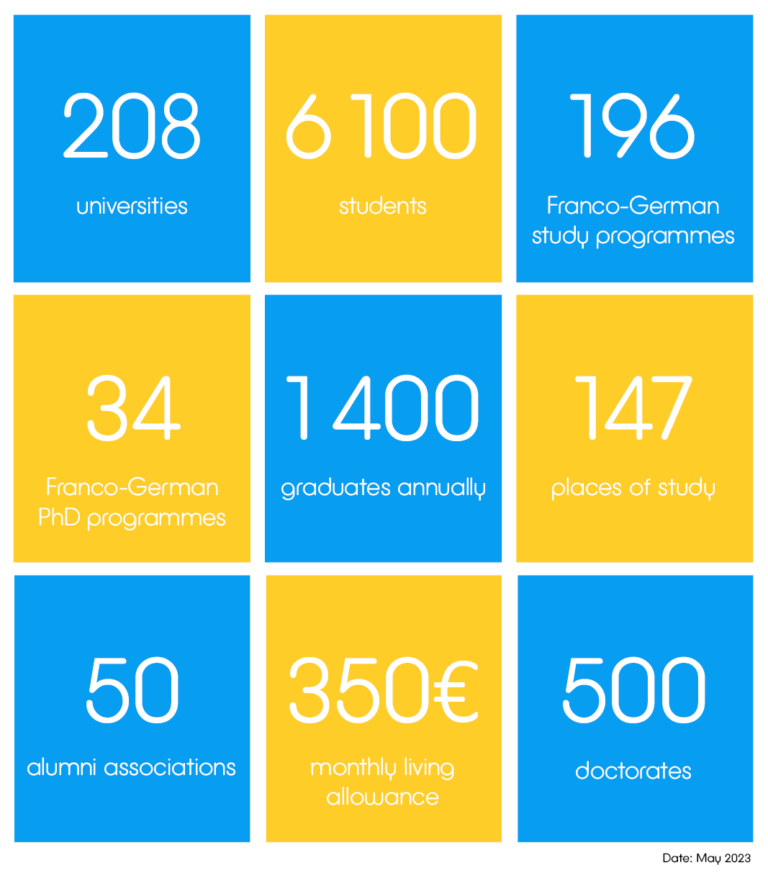 The Franco-German University (FGU) is a network of affiliated universities from France, Germany and other countries. Its administrative offices are located in Saarbrücken, Germany. The FGU was established as an international institution following an intergovernmental agreement (the Weimar Agreement) in 1997.
The FGU provides expert guidance on relations between French and German universities with the aim of improving cooperation in the areas of university study programmes and research in both countries.
The FGU's main tasks include initiating, coordinating and funding structured academic programmes for each of the three Bologna cycles. These degree programmes are subject to external evaluation by French and German academic experts.
Over 6,300 students are currently enrolled on 189 bi-national and tri-national study programmes managed by the FGU in France, Germany and other countries. In the case of tri-national degree programmes, students also study or do an internship in a third country.
In integrated degree programmes, students study in two or more countries.
Credits obtained in a partner country are fully recognised by the home university.
All the degree programmes are organised individually on the basis of a cooperation agreement between the partner universities. Students should spend the same amount of time studying at both partner universities. In general, this means at least two semesters at each university for a bachelor degree programme.
Advantages of an integrated degree programme
awarding of two (or three) nationally recognised degrees of equal value or of a
dual degree, within the same time as it takes to obtain a single national degree
acquisition of key skills for a future career – particularly communication skills, teamwork skills, flexibility and intercultural competence – as integral components of the degree programme
training courses in intercultural competence (the experience of studying in France and Germany serving as a first-hand example of "internationalisation" in general)
acquisition of both general and specialist language skills in the two languages (French and German) and consolidation of exissting language knowledge
in-depth knowledge of at least two countries
greater insight into different European work structures and cultures
a monthly living allowance to assist students during their stay abroad (currently €300 per month)
A "double degree" is the reward for the extra work required from students to achieve intercultural, thematic and linguistic proficiency in their subjects within the nationally required standard programme duration.
In addition to the integrated study programmes, the FGU also promotes doctoral programmes and academic events.
The French and German governments, together with the German federal states, provide equal funding to the FGU.
To obtain further information on the FGU and its activities, don't hesitate to contact us:
Villa Europa
Kohlweg 7
66123 Saarbrücken
Germany
Phone: +49 681 93812 - 100
Fax: +49 681 93812 - 111
Email: info(at)dfh-ufa.org