FGU students pursue a joint programme of study in France and Germany.
However, their countries of origin span the globe.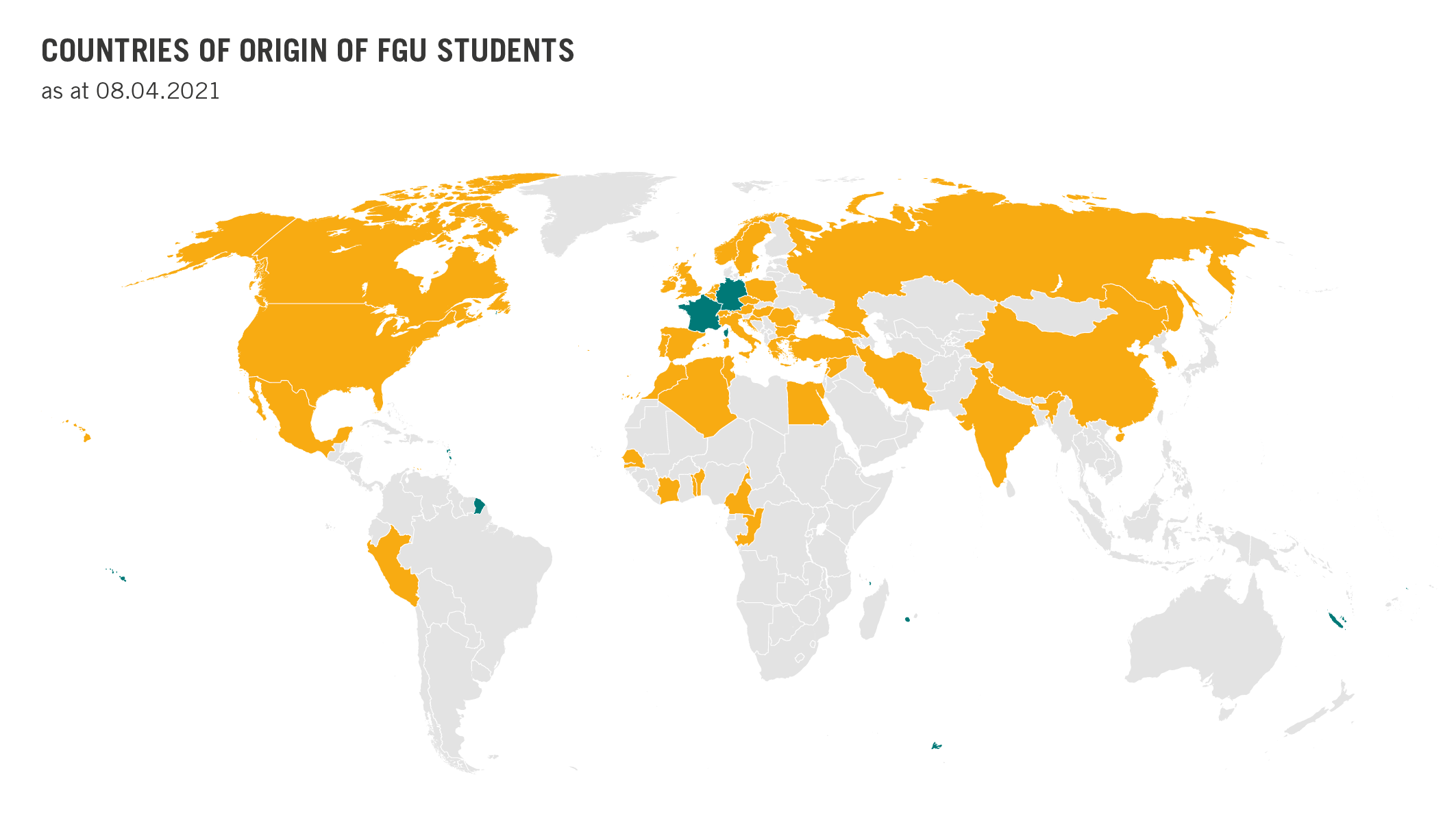 ---
FGU graduates by no means only work in France or Germany.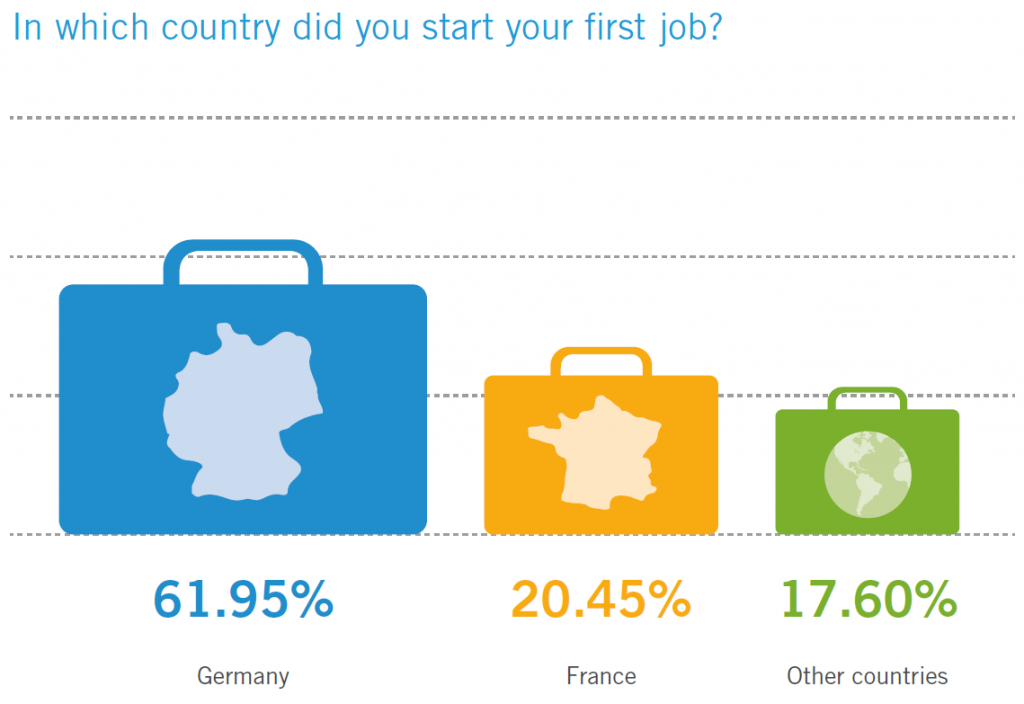 Out of the conviction that early contact is beneficial for both sides, the FGU seeks and fosters dialogue with the business community – providing opportunities for the professional development of its students, graduates and doctoral candidates. Numerous business players are already leveraging the potential that this collaboration offers to introduce themselves to young, international talents and thus to attract highly qualified employees or interns who are optimally prepared for working in intercultural teams.
---
Partnerships
Partnerships with business players play an important role for the FGU – be it in the form of cooperation programmes or the participation of FGU students in events.
This has positive effects for both partners:
It gives FGU partners the opportunity to introduce themselves to international students with a Franco-German degree – and by extension to recruit interns and prospective employees,
while FGU students and graduates can establish interesting contacts and earn awards for outstanding achievements.
---
The FGU's cooperation programmes
Excellence and best-thesis awards
The FGU excellence awards are conferred on graduates of FGU-funded study programmes who have demonstrated their professional and intercultural excellence through outstanding academic degrees (bachelor's, master's, etc.) or on the basis of special merits. They also have the objective of promoting an exchange between businesses and young university graduates from different countries.
With the aim of recognising excellent research work and promoting contact between representatives from the business world and international junior researchers, the FGU each year also honours the best PhD dissertations sponsored by the FGU that have been written in a bi-national, often even multinational, context.
The FGU excellence awards are endowed with €1,500 each, the best-thesis awards with €4,500 each, and are funded by internationally operating business players and institutions from various sectors.
Previous sponsors of the excellence awards have included, among others, the Club des Affaires Saar-Lorraine, the Franco-German cultural affairs channel Arte, the auditing and consulting company Mazars and the ASKO Europa-Stiftung foundation. The best-thesis awards have been sponsored in recent years by Apec (Association pour l'emploi des cadres) as well as the Rotary Clubs Paris and Berlin-Brandenburger Tor.
For more information on the excellence awards: French / German)
For more information on the best-thesis awards: French / German)
The FGU's grant schemes not only honour outstanding academic achievements; grant recipients can also use this opportunity to upgrade their studies and their CV, for example by completing an internship with the grant provider or by writing a company-related final thesis. This also enables them to gain valuable practical experience and extend their professional network. As a rule, the grant amounts to €4,000 per year and per recipient. Since the grant scheme was launched in 2014, a number of internationally operating companies such as Michelin Deutschland, Hutchinson, BNP, Paribas or the regional bank Saar LB have awarded grants to FGU students.
For more information on the FGU's grant schemes: French / German)
---
Events
Business dinners in Berlin or Paris provide an opportunity for representatives from the business world scouting for international talent, and students or graduates of the FGU to get to know each other and to exchange ideas in an informal setting. Whether in English, German or French – thanks to their language skills, FGU students and graduates can easily adapt to the language of their interlocutor.
For more information on the FGU's business dinners: French / German)
Networking events with the business community offer an international exchange platform for business players, universities, students and graduates of the FGU at various locations with panel discussions on topics such as the added value of international academic and scientific careers, entering the job market and career opportunities.
For more information on the networking events: French / German)
Scientific events for junior researchers
The partners of the FGU have many possibilities to become involved in Franco-German and multinational events for junior researchers, for example through financial support, company visits and lectures by representatives from the business world.
For more information on the FGU's scientific events: English /French / German)
---
Our graduates
Each year, around 1,500 students successfully graduate from their FGU-backed Franco-German courses with a double degree. They speak at least two foreign languages, have demonstrated their motivation and adaptability during several stays abroad and acquired intercultural skills, ideally qualifying them for responsible positions in an international work environment whether in business, politics, administration or science.
Key competencies of FGU graduates: Added value for the international labour market
Field-of-study expertise
Experience abroad thanks to a study period of at least two to three semesters in the partner country
Proficiency in languages, both general and specialised
Intercultural skills
Flexibility and mobility
Commitment and drive
Team spirit
First experiences in the working world
Graduate study 2019: Double degree as a career springboard
University graduates with a Franco-German double degree quickly find a job, in most cases leading to a promising international career. This is borne out by the latest FGU graduate study.
Almost all participants in the survey confirmed that their key competencies were a major advantage when applying for a job, with very few experiencing difficulties finding employment. Around 70% of those surveyed found a job that matched their education within three months of graduating. In fact, as many as one in three received a job offer before they had completed their studies. And yet, graduates of the Franco-German degree programmes by no means only end up working in France or Germany: One in five respondents started their first job in a third country, e.g. in Switzerland, Luxembourg, Belgium, the UK or Austria.
Go to results of the graduate study 2019: French / German