The network of member and partner universities of the Franco-German University
The Franco-German University network consists of 208 universities in France, Germany and third countries.
At least one cooperation programme exists between the Franco-German University and these universities, enabling undergraduate and PhD students to spend part of their studies in the partner country.
The partner and member universities in the FGU network meet once a year at the General Assembly of Member Universities.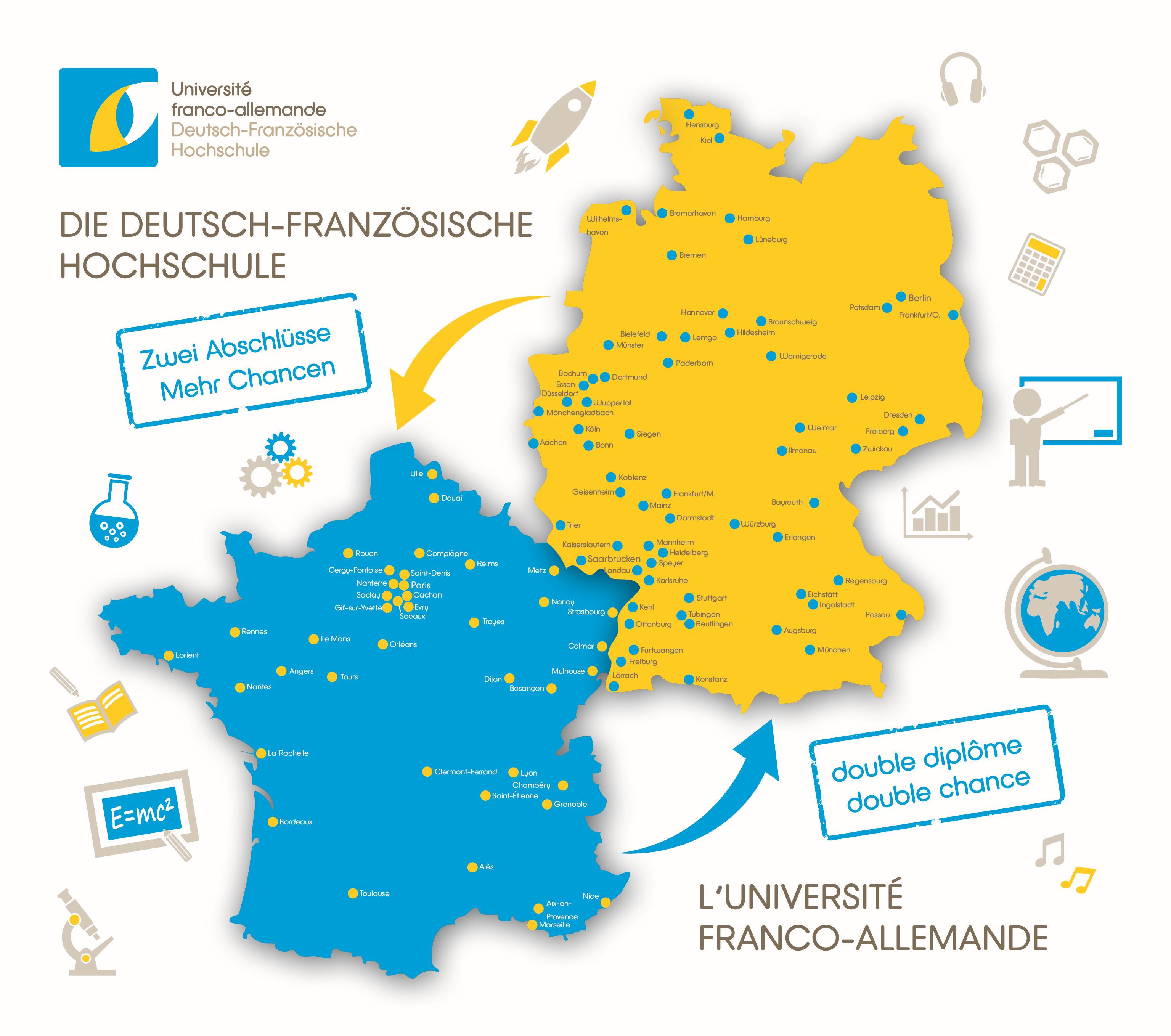 List of universities in the FGU network
All the universities listed are involved in at least one cooperation programme accepted by the FGU. Those universities marked with * have the status of partner universities. The remaining universities are voting member universities.
| | |
| --- | --- |
| 1. | Albert-Ludwigs-Universität Freiburg |
| 2. | Alfred-Wegener-Institut, Helmholtz-Zentrum für Polar- und Meeresforschung (AWI)* |
| 3. | Bauhaus-Universität Weimar |
| 4. | Bergische Universität Wuppertal |
| 5. | Deutsche Universität für Verwaltungswissenschaften Speyer |
| 6. | Duale Hochschule Baden-Württemberg |
| 7. | Eberhard-Karls-Universität Tübingen |
| 8. | ESCP Europe Wirtschaftshochschule Berlin |
| 9. | Europa-Universität Flensburg |
| 10. | Europa-Universität Viadrina Frankfurt (Oder) |
| 11. | Fachhochschule Dortmund |
| 12. | Fachhochschule Kiel |
| 13. | Folkwang Universität der Künste, Essen |
| 14. | Frankfurt University of Applied Sciences |
| 15. | Freie Universität Berlin |
| 16. | Friedrich-Alexander-Universität Erlangen-Nürnberg |
| 17. | Goethe-Universität Frankfurt am Main |
| 18. | Heinrich-Heine-Universität Düsseldorf |
| 19. | Hochschule Bremen* |
| 20. | Hochschule Darmstadt* |
| 21. | Hochschule für Angewandte Wissenschaften Hamburg |
| 22. | Hochschule für angewandte Wissenschaften Harz |
| 23. | Hochschule für angewandte Wissenschaften München |
| 24. | Hochschule für Musik Freiburg |
| 25. | Hochschule für öffentliche Verwaltung Kehl |
| 26. | Hochschule für Technik und Wirtschaft des Saarlandes |
| 27. | Hochschule für Technik und Wirtschaft Dresden |
| 28. | Hochschule für Technik, Wirtschaft und Medien Offenburg |
| 29. | Hochschule für Wirtschaft und Gesellschaft Ludwigshafen |
| 30. | Hochschule für Wirtschaft und Recht Berlin |
| 31. | Hochschule Furtwangen |
| 32. | Hochschule Geisenheim University |
| 33. | Hochschule Karlsruhe |
| 34. | Hochschule Mainz |
| 35. | Hochschule Mannheim |
| 36. | Hochschule Niederrhein |
| 37. | Hochschule Reutlingen |
| 38. | Hochschule Worms* |
| 39. | Humboldt-Universität zu Berlin |
| 40. | Jade Hochschule Wilhelmshaven/Oldenburg/Elsfleth |
| 41. | Johannes Gutenberg-Universität Mainz |
| 42. | Julius-Maximilians-Universität Würzburg |
| 43. | Karlsruher Institut für Technologie |
| 44. | Katholische Universität Eichstätt-Ingolstadt |
| 45. | Leibniz Universität Hannover |
| 46. | Leuphana Universität Lüneburg* |
| 47. | Ludwig-Maximilians-Universität München |
| 48. | Martin-Luther-Universität Halle-Wittenberg* |
| 49. | Ostbayerische Technische Hochschule Regensburg |
| 50. | Otto-Friedrich-Universität Bamberg* |
| 51. | Pädagogische Hochschule Freiburg |
| 52. | Pädagogische Hochschule Karlsruhe |
| 53. | Rheinische Friedrich-Wilhelms-Universität Bonn |
| 54. | Rheinisch-Westfälische Technische Hochschule Aachen |
| 55. | Ruhr-Universität Bochum |
| 56. | Stiftung Universität Hildesheim |
| 57. | Technische Hochschule Ostwestfalen-Lippe* |
| 58. | Technische Universität Bergakademie Freiberg |
| 59. | Technische Universität Berlin |
| 60. | Technische Universität Braunschweig |
| 61. | Technische Universität Darmstadt |
| 62. | Technische Universität Dortmund* |
| 63. | Technische Universität Dresden |
| 64. | Technische Universität Ilmenau |
| 65. | Technische Universität Kaiserslautern |
| 66. | Technische Universität München (TUM) |
| 67. | Universität Augsburg |
| 68. | Universität Bayreuth |
| 69. | Universität Bielefeld |
| 70. | Universität Bremen |
| 71. | Universität des Saarlandes |
| 72. | Universität Hamburg |
| 73. | Universität Heidelberg |
| 74. | Universität Hohenheim* |
| 75. | Universität Kassel* |
| 76. | Universität Koblenz-Landau |
| 77. | Universität Konstanz |
| 78. | Universität Leipzig |
| 79. | Universität Mannheim |
| 80. | Universität Paderborn |
| 81. | Universität Passau |
| 82. | Universität Potsdam |
| 83. | Universität Regensburg |
| 84. | Universität Siegen |
| 85. | Universität Stuttgart |
| 86. | Universität Trier |
| 87. | Universität zu Köln |
| 88. | Westfälische Wilhelms-Universität Münster |
| 89. | Westsächsische Hochschule Zwickau |
| | |
| --- | --- |
| 1. | Aix-Marseille Université (AMU) |
| 2. | Arts et Métiers |
| 3. | CentraleSupélec (GEC Lille, Lyon, Marseille, Nantes, Paris) |
| 4. | Centre national de la recherche scientifique* |
| 5. | Commissariat à l'énergie atomique et aux énergies alternatives* |
| 6. | CPE Lyon |
| 7. | CY Cergy Paris Université |
| 8. | École Centrale de Lille (GEC Lille, Lyon, Marseille, Nantes, Paris) |
| 9. | École Centrale de Lyon (GEC Lille, Lyon, Marseille, Nantes, Paris) |
| 10. | École Centrale de Marseille (GEC Lille, Lyon, Marseille, Nantes, Paris) |
| 11. | École des hautes études en sciences sociales |
| 12. | École des Ponts ParisTech* |
| 13. | École du Louvre |
| 14. | École Nationale Supérieure d'Architecture de Strasbourg |
| 15. | École Nationale Supérieure de Chimie de Rennes |
| 16. | École Nationale Supérieure d'Informatique pour l'Industrie et l'Entreprise |
| 17. | École Nationale Supérieure de Mécanique et des Microtechniques de Besançon |
| 18. | École des Mines de Saint-Étienne |
| 19. | École Normale Supérieure* |
| 20. | École Normale Supérieure de Lyon |
| 21. | École Normale Supérieure Paris-Saclay |
| 22. | École Spéciale des Travaux Publics, du Bâtiment et de l'Industrie |
| 23. | École supérieure de musique Bourgogne-Franche-Comté |
| 24. | ESSEC Business School |
| 25. | École Supérieure du Commerce Extérieur |
| 26. | EPF École d'Ingénieur-e-s |
| 27. | ESCP Europe Business School Paris |
| 28. | EXCELIA |
| 29. | Haute École des Arts du Rhin |
| 30. | HEC - École des Hautes Etudes Commerciales |
| 31. | Institut de Physique du Globe de Paris |
| 32. | Institut Mines-Télécom Lille Douai* |
| 33. | Institut Mines-Télécom Mines d'Alès* |
| 34. | Institut National des Sciences Appliquées de Lyon |
| 35. | Institut National des Sciences Appliquées de Rennes |
| 36. | Institut National des Sciences Appliquées de Rouen Normandie |
| 37. | Institut National des Sciences Appliquées de Strasbourg |
| 38. | Institut National du Service Public |
| 39. | Institut polytechnique de Grenoble |
| 40. | Institut Polytechnique de Paris |
| 41. | KEDGE Business School* |
| 42. | L'institut Agro* |
| 43. | Le Mans Université |
| 44. | MINES ParisTech |
| 45. | Nantes Université |
| 46. | NEOMA Business School |
| 47. | Sciences Po |
| 48. | Sciences Po Aix |
| 49. | Sciences Po Bordeaux |
| 50. | Sciences Po Lille |
| 51. | Sciences Po Rennes |
| 52. | Sorbonne Université |
| 53. | Université Bordeaux Montaigne |
| 54. | Université Clermont Auvergne |
| 55. | Université Côte d'Azur |
| 56. | Université d'Angers |
| 57. | Université d'Avignon et des Pays de Vaucluse* |
| 58. | Université de Bordeaux |
| 59. | Université de Bourgogne |
| 60. | Université de Bretagne-Sud |
| 61. | Université de Franche-Comté |
| 62. | Université de Haute-Alsace |
| 63. | Université de La Réunion |
| 64. | Université de Lille |
| 65. | Université de Lorraine |
| 66. | Université de Lyon 1 - Claude Bernard |
| 67. | Université de Rennes 1 |
| 68. | Université de Strasbourg |
| 69. | Université de Technologie de Compiègne |
| 70. | Université de Technologie de Troyes* |
| 71. | Université de Tours |
| 72. | Université d'Orléans |
| 73. | Université Grenoble Alpes |
| 74. | Université Jean Monnet Saint-Étienne |
| 75. | Université Jean Moulin Lyon 3 |
| 76. | Université Lumière Lyon 2 |
| 77. | Université Paris 1 - Panthéon-Sorbonne |
| 78. | Université Paris 8 Vincennes - Saint-Denis* |
| 79. | Université Paris Cité |
| 80. | Université Paris Dauphine-PSL |
| 81. | Université Paris-Est Créteil Val de Marne |
| 82. | Université Paris Nanterre |
| 83. | Université Paris-Panthéon-Assas |
| 84. | Université Paris-Saclay |
| 85. | Université Savoie Mont Blanc |
| 86. | Université Sorbonne Nouvelle - Paris 3 |
| 87. | Université Toulouse - Jean Jaurès |
| 88. | Université Toulouse 1 Capitole |
| 89. | Université Toulouse 3 Paul Sabatier* |
| 90. | Y SCHOOLS |
Third country universities
| | | |
| --- | --- | --- |
| 1. | | Coventry University*, Great Britain |
| 2. | | ESCP Europe Business School (London)*, Great Britain |
| 3. | | ESCP Europe Business School (Madrid)*, Spain |
| 4. | | Fachhochschule Nordwestschweiz FHNW*, Switzerland |
| 5. | | Haute École Arc*, Switzerland |
| 6. | | Instituto Politecnico do Porto*, Portugal |
| 7. | | Jihočeská univerzita v Českých Budějovicích*, Czech Republic |
| 8. | | King's College London*, Great Britain |
| 9. | | National Academy of Sciences of Ukraine*, Ukraine |
| 10. | | Sapienza - Università di Roma*, Italy |
| 11. | | The Australian Wine Research Institute*, Australia |
| 12. | | The University of Adelaide*, Australia |
| 13. | | Universidad Complutense Madrid*, Spain |
| 14. | | Universidade do Porto*, Portugal |
| 15. | | Università degli Studi di Firenze*, Italy |
| 16. | | Università degli Studi di Milano*, Italy |
| 17. | | Università degli Studi di Padova*, Italy |
| 18. | | Università degli Studi "G. d'Annunzio" Chieti Pescara*, Italy |
| 19. | | Università di Bologna*, Italy |
| 20. | | Università di Pisa*, Italy |
| 21. | | Universität Basel*, Switzerland |
| 22. | | Universität Bern*, Switzerland |
| 23. | | Universitat Pompeu Fabra Barcelona*, Spain |
| 24. | | Universität St. Gallen*, Switzerland |
| 25. | | Universität Wien*, Austria |
| 26. | | Université Cadi Ayyad*, Morocco |
| 27. | | Université de Liège*, Belgium |
| 28. | | Université du Luxembourg*, Luxembourg |
| 29. | | Université Mohammed V-Agdal*, Morocco |
| 30. | | Universiteit Groningen*, Netherlands |
| 31. | | Universiteit Utrecht*, Netherlands |
| 32. | | Universiteit van Amsterdam*, Netherlands |
| 33. | | Univerzita Karlova*, Czech Republic |
| 34. | | Uniwersytet Opolski*, Poland |